I WISH I was Chicken Little.
The mason we chose to do the brickwork (Mason #2) came over to start work today. Since we hadn't yet replaced the too-small window or removed the excess wood from the windows, they started on the corners... they are doing a beautiful job so far! The mortar and bricks are matching almost seamlessly.
We removed the excess wood from the windows while they worked on the brick. It's the light tan wood in this picture, and was used to bring the window trim out beyond the siding: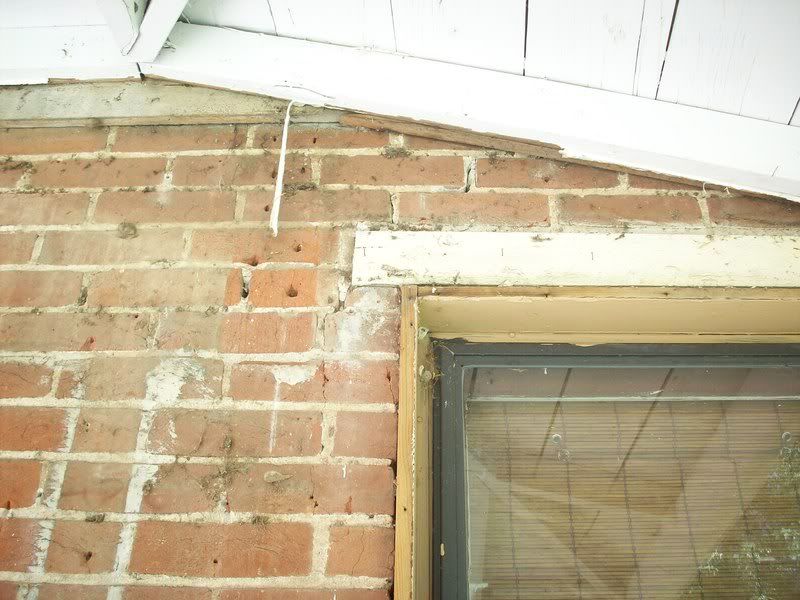 It was obscuring some of the repairs needed.
Then the mason called us over to look at a couple sample patches for the nail holes. We decided that a particular mix of clay might work the best. As we watched, he pushed the clay into the nail hole... AND THE WHOLE WALL MOVED INWARDS.
The window frames were keeping the walls from moving.
We know what is happening... the two wyeths of brick that form the cavity wall are separating. They should have been laid with a Flemish course (using bricks laid the short way to tie the wyeths together) when it was built. Now we will have to find a way to tie these wyeths together 100 years later.
We have a structural engineer coming out at 9 am tomorrow... please send us your good thoughts. I have no idea how much this is going to cost. It sure sounds expensive. Wish us luck.