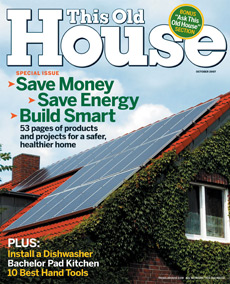 I was flipping through the
October 2007
issue of
This Old House
. The "theme" of the issue was green remodeling ideas, and I thought great! This will be so useful, as I am trying to make as little of an environmental impact as possible on my house.
Unfortunately, most of the magazine was dedicated to expensive ways to save energy by buying new, and new products that are theoretically manufactured using "green" techniques. I am much more interested in information about how to retrofit existing houses with a much smaller consumer footprint, and information on how to use old materials.
Now, before I completely trash the magazine issue, there was a nice article on
22 Little Ways to Go Green
, with a number of somewhat useful ideas. We already do most of them, however... no shoes in the house for instance. But, the list is a nice reminder of some of the more basic ways to improve your energy efficiency.