This weekend we installed the slate in our bathroom. It took us 2 days from start to our current stopping point. I was pleasantly surprised to notice that my previous
mistake
was not noticable on the installed floors.
How to install slate on top of HardiBacker:
1) Dry lay the tiles to make sure they fit. The rubber spacers they sell were somewhat useless with the inconsistent shape of the tiles, so we didn't use them.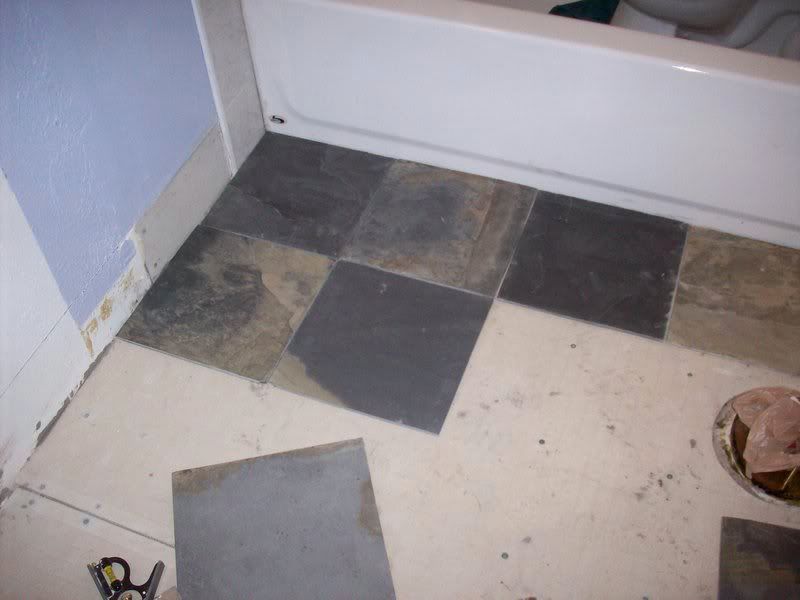 2) Use a diamond blade to cut the stone. We dry-cut using a diamond blade on a jigsaw for the detail cuts (such as the circle around the toilet) and a diamond blade on a circular saw for cutting the long straight cuts.
Hints:
The jigsaw cuts a nice, smooth, even and nice-looking line, with little to no breakage and crisp edges. The circular saw, on the other hand splintered the edges of the tiles, and chipped off a considerable amount of stone. We used it only for edges that would be hidden.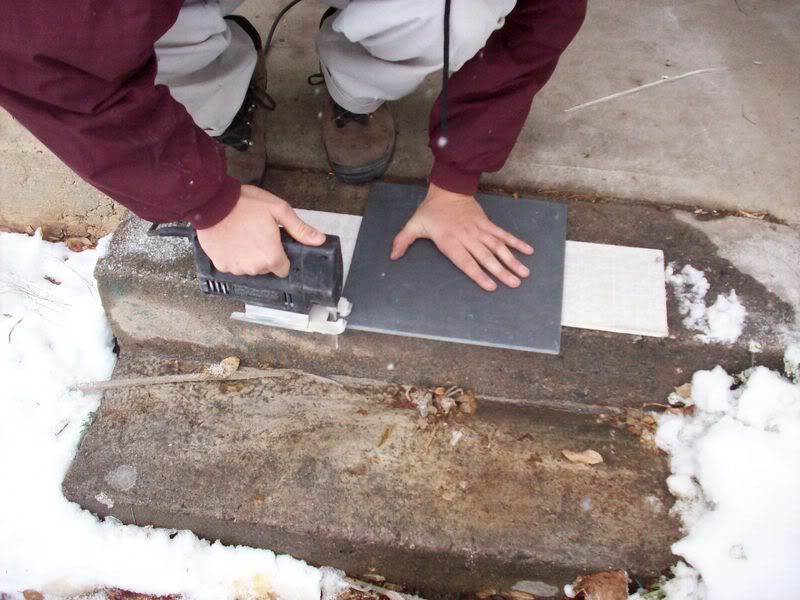 3) We used a rapid setting mortar so that our toilet (only one in the house) would be usable before sundown. I spread it on the floor with an old rubber spatula and used a 1/2 inch trowel to create those "grooves" in the mortar. After 4 hours, we were able to replace the toilet/
Hints: A drill with a mixing paddle makes quick work of the required 5 minutes of mixing.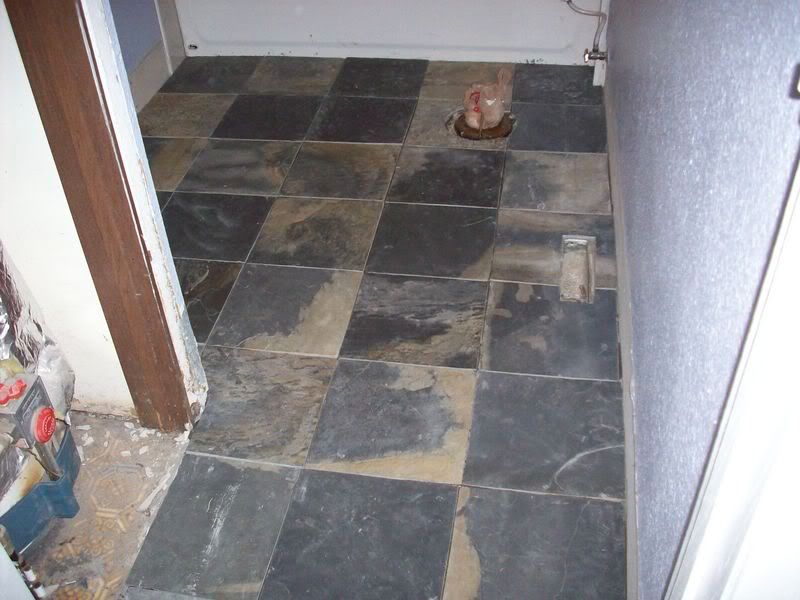 5) We installed the grout using sandwich baggies to "pipe" the grout into the cracks. We did this because we are inexperienced at grouting.
Hints:
Use lots of warm soapy water to clean up... and wipe every tile at least three times to remove the excess grout.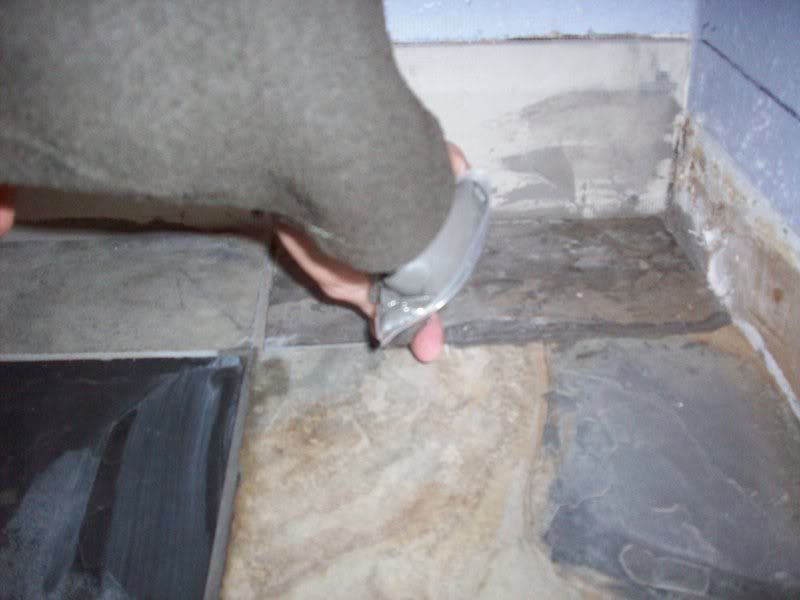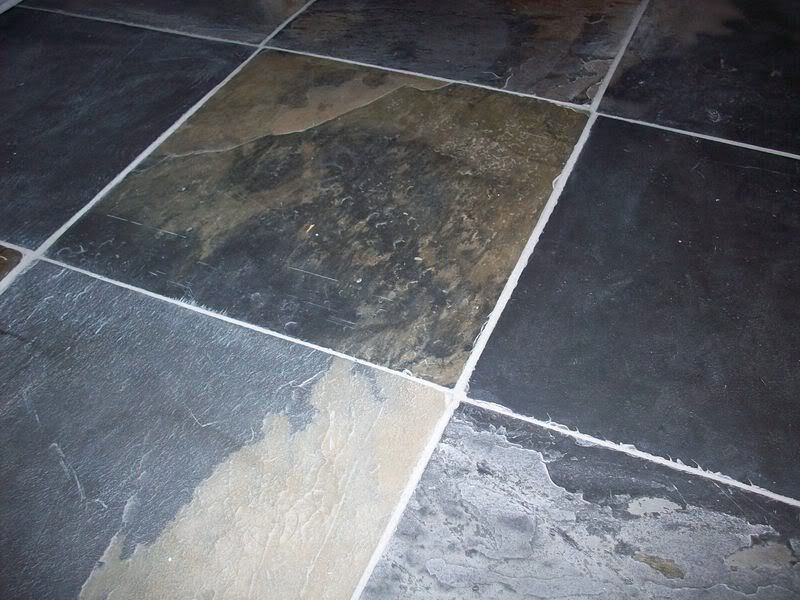 The finished and dry grout lines. The grout looks darker in real life; it is about the color of cement.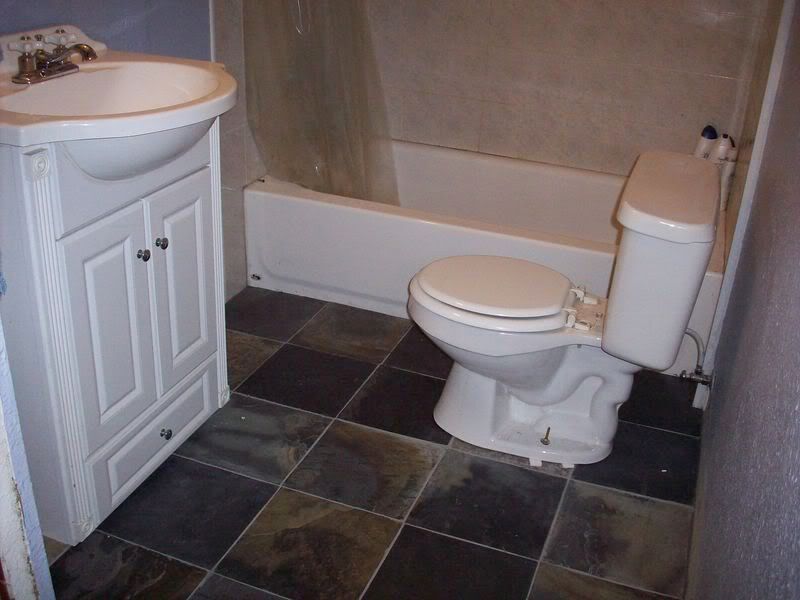 The finished floor!
What and Where and How Much?
Laticrete Tri-Poli Sanded Grout- Habitat for Humanity ReStore- $2
Ultra Flex Thinset Mortar- All About Floors- $18
1/2 inch trowel- Habitat for Humanity ReStore- $1.25
Diamond Blade for jigsaw- Lowes- $5
Sponges- Grocery Store- $2
Slate Tile- Craigslist- $30
Sealer- Habitat for Humanity ReStore- $2
Hardibacker- Freecycle and Lowes- $30
1/4 inch trowel- Habitat for Humanity- $2
Wax Rings for Toliet- Home Depot- $5
Total Cost for Bathroom Floor: $104.25