A while ago, we went to
Raven Architectural Artifacts
in LaSalle. The owners showed us some mahogany veneered solid doors they had accidentally left outside... the finish was peeling, and there was some weather damage to the veneer. They offered them to us for $25 each, so we bought all three. The color is beautiful, and they had original hardware and crystal doorknobs. The finish is very thin, too, and came off quite easy!
These doors were all from the
university's
1930's
faculty apartments
... the apartments were turned into dorms around 2001, and so were gutted of anything nice.
****************************************************************
This door is back in business, as it is going to be the bathroom door in just a few days. It was a closet door in a former life, and so has a full length mirror (in excellent condition) inbedded into it on one side.
We originally stripped this door with a "gentle finish remover". A couple hours, 2 eye masks, 4 pieces of 00 steel wool, and 2 pairs of rubber gloves later, the finish was stripped. We plan to use a random orbit sander to complete the next two.
Yesterday, I spent the day gluing some peeling veneer back into place. I used rubber tipped clamps to hold the wood in place while gluing.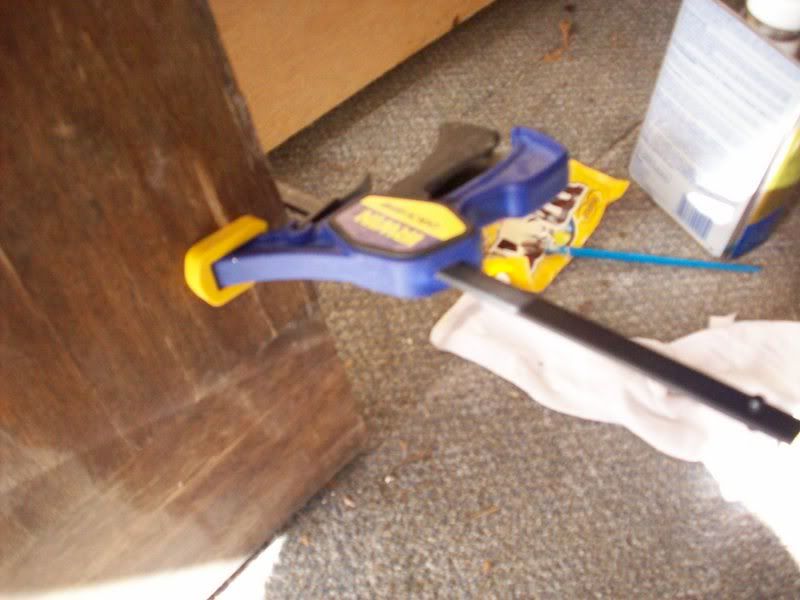 I also used #18 5/8 inch brads to reattach the molding that was holding the mirror into the other side. I need to go buy a small finishing hammer to complete the job, as whacking at the tiny nails beside a mirror was a bit like being an elephant in a china shop.
Today, I may refinish. I may not. The door is incredibly heavy, and I can't lift it myself. But, I may try!