As I promised
here
and
here
, there was utter failure in door hanging at our house last weekend. Here's the nitty gritty, and what you can learn from us!
Level and plumb your jambs INCLUDING the header before you nail it into the wall. If you don't, your work is futile.
We didn't
. Well, I thought I remembered doing it, but it was VERY obvious that we did NOT plumb or level the jamb. We hauled our 50 or 60 lb door
(sorry Karen of Delano Bungalow... we don't know if it rivals yours as neither of us could hold it by ourselves!)
into position, using shims to brace it up off the floor. Then, we noticed that the jamb was NO WHERE near square. Sigh.
We pried off the door jamb, and made sure it was square with itself and plumb. We discovered that the finish nails we used did not want to come out of our steel-like 100 year old wood studs, and came up with this ingenious solution: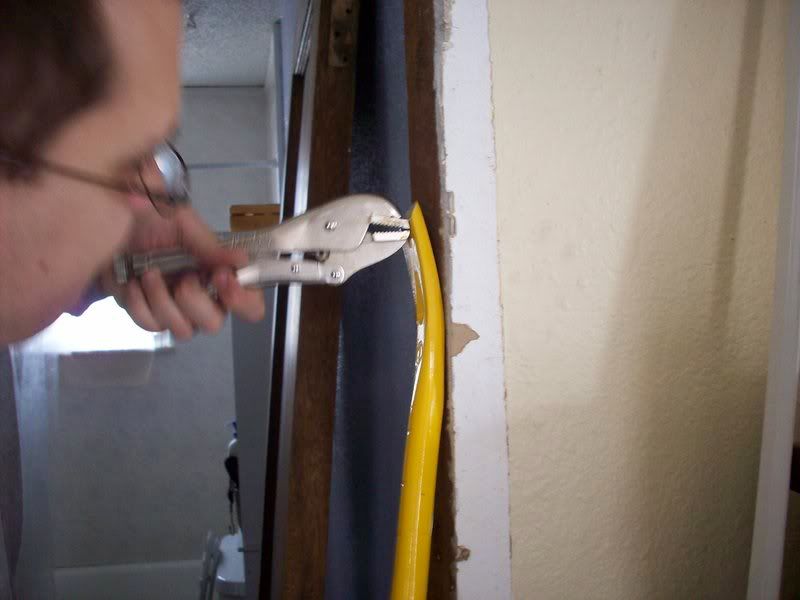 Vise grips holding the nail head, with a crowbar doing the prying using the vise grips as a de facto head.
We discovered that our wall is actually no where near plumb, which is what caused us to hang our jamb off of plumb. I would say it's about 5º off.
We used shims to set the jamb in a square and plumb fashion,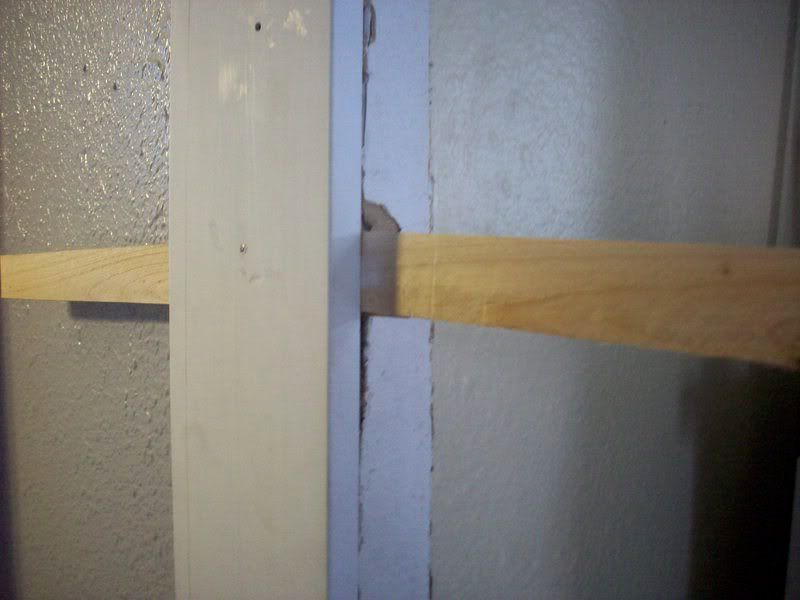 making sure to use two shims each time for stability.
The jamb is now square and plumb... but it sticks out over the drywall in places and doesn't cover the stud in others. It's essentially at a diagonal to the stud. I don't know if this is OK at all... but we decided to go ahead.
Measure twice, measure again, and THEN cut. Then, measure again. It might have moved.
We measured once. We are sorry excuses for home improvers. We measured the distances for our mortises onto the jambs once, and then
set at it with chisels
. We chipped out perfect mortises, screwed our jamb side hinges in, and proceeded to attempt door installation.
It didn't fit. The bottom hinge was approximately 1/8 inch too low. Back to the drawing (measuring) board.
Buy good screws... NOT the cheap zinc ones.
We used wood screws we had lying around. They were zinc screws, 2-1/2 inches long. They seemed perfect for screwing the hinges into the jamb and stud.
They were not.
We discovered the jamb hinges were too far apart after many attempts at sliding it in. We did rest the entire weight of the door on the bottom hinge at one point. When we gave up and started to remove the bottom hinge to move it, we were dismayed to find that the screws had snapped off. Only the heads and about 1/4 inch could be removed from the walls. Panic set in...
We went to a big box store and broke our
pledge
by buying a
hole saw
. The new plan is to remove the screws in 3/4 inch plugs, and then fill in the holes in the studs with 3/4 inch hardwood dowel. See any problems with this?
Can you help me?


1) Should we hang
the door jamb as planned, 5º off of the rest of the wall?
2) Should we remove the 2 snapped off screws using the hole saw and plugged with dowel, or is there a better way?
3) What screws should we use that will support this huge heavy door? I don't trust the zinc wood screws since they already snapped off.