Since our
utter failure
two weeks ago we been trying to reconcile ourselves to permanent life without a bathroom door. Sure it meant no visitors who weren't like family... but the thought of tackling the door was completely overwhelming.
Today I decided that I would try one more time. By myself.
It was very deja vu. I did the same things that we did last week as I attached yet another door jamb
and
chiseled new mortises
. I won't bore you with the nitty gritty details, as they are already detailed in previous posts.
This time, though, I measured. I measured again. And, then... I measured one more time. I checked all of the plumb and squared lines.
I decided to leave the broken off screws in the studs and shift the door up the jamb a tiny bit to allow room for the new screw holes. I chose a bit 2 sizes bigger for my pilot holes to avoid the screws snapping off in installation... many thanks to
The Handyguys
for their diagnosis of the problem!
I carefully screwed the hinges into the stud and jamb, wedged a few shims under the extremely heavy door
(...and no Karen, I still didn't get a weight on it. I'll have to forfeit on a technicality!)
and slowly slid the door into position. This time, I managed to get the hinges in exactly the right place.
Here are a few pictures of the door. It's still missing the door stop, the knob, and is yet unfinished.
(And don't mind the dirty laundry. I didn't see it until I looked at the pictures!)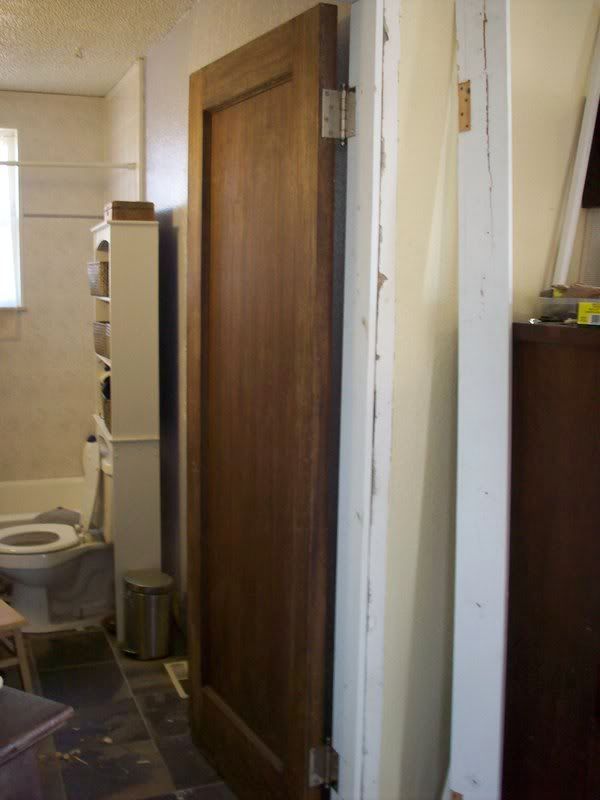 Looking in from the living room...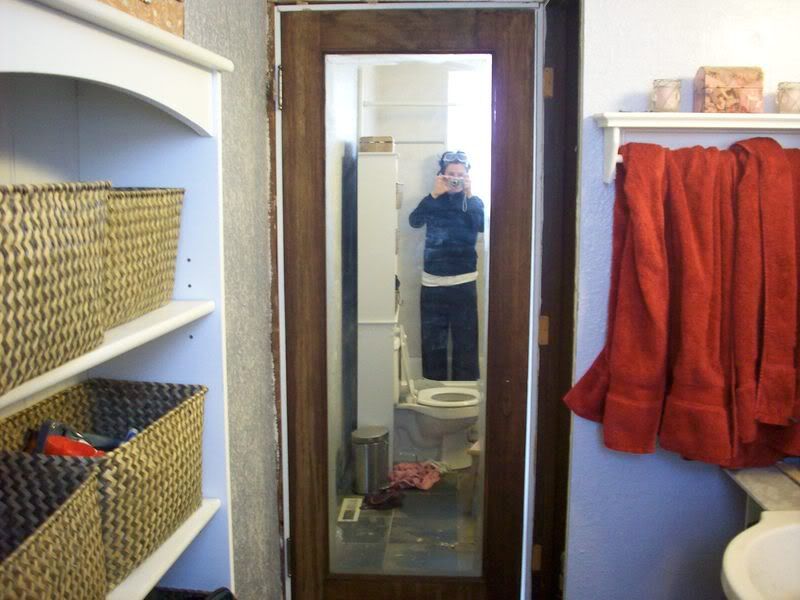 ...and from inside the bathroom. Don't mind the dirty laundry!
I'll post finished pictures later!
For those of you who followed this, what a learning curve! I feel comfortable enough to tackle the rest of the doors in the house now. Don't be too afraid to tackle a non-prehung door... just measure. Over and over. And don't drill your pilot holes too small!