Thanks for all of your wonderful suggestions! It really helps me hack through this process.
A few of you asked what program I'm using to create my 3D layouts. I'm using
SketchUp
, a free program from Google. I must say it is quite easy to use; I figured it out through trial and error. I just have the basics down; I have seen some
FABULOUS models
elsewhere.
We thought through our priorities, and decided that the dogs could sleep in a bathroom/laundry room, that we didn't REALLY need a side back door AND a back back door, and that a bathroom really would be nice. We already
traded for a stackable washer and dryer
to help with our plans.
A snag came up when we realized the trap door for the crawl space is right where we wanted to place a wall; we compromised by shrinking the bedroom by a foot. It's now a 10' x 13' bedroom; the largest in the house by FAR, and with no closet eating up space inside it. I am also concerned about placing a sink over this trap door... is this a good idea, or a disaster waiting to happen?
Here are two ideas; look at how far they came from
my last attempt
! The trap door is the square on the floor of the laundry/bathroom area.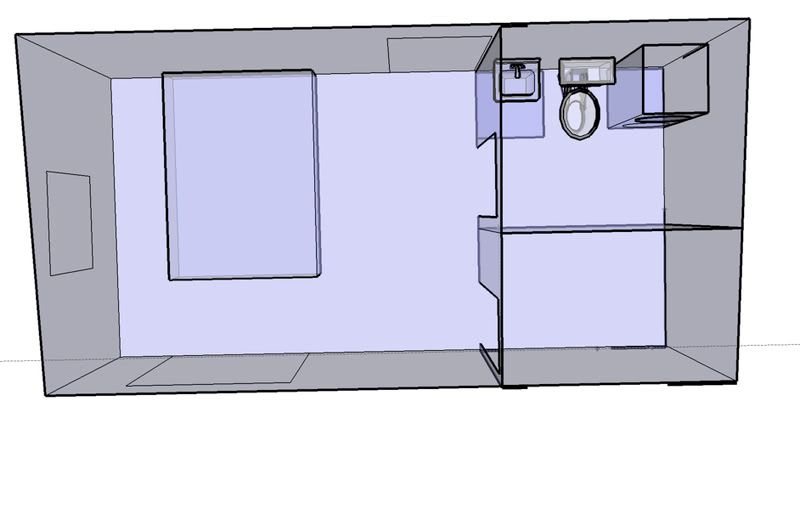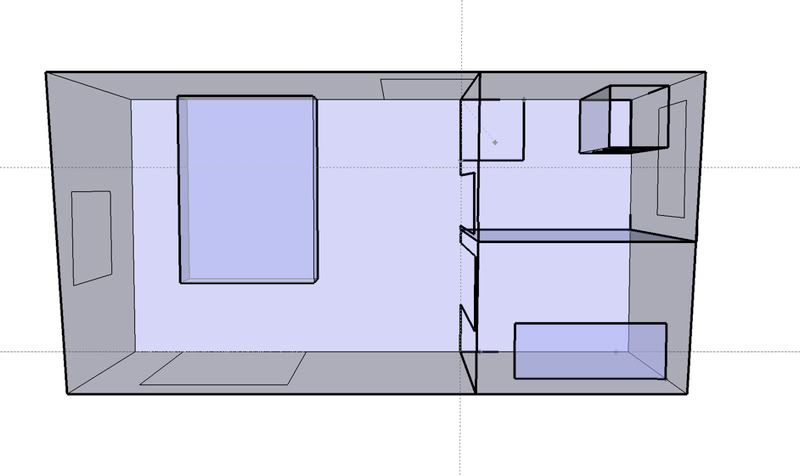 Basically, I divided the space up into a 10'x13' bedroom and two 7'x5' spaces, one a walk in closet and one a laundry or bathroom. I removed the side back door, and added our salvaged French doors to the bedroom.
I can't decide about doors... should the closet and laundry room have their own separate entrances from the bedroom (I'll likely do pocket doors for at least one of them), or should I have only ONE door that into the bathroom, and then a door from there into the closet? I drew the plans with a separate door for each.
Whether we do the bathroom will depend on the ease of plumbing. In the little bit of research I've done, it sounds alternately like the easiest thing in the whole world and like I've asked to move the Empire State Building. It doesn't help that I don't really know what needs to be done except we need the 4 inch drain and we already have plumbing in the wall...
What are your thoughts on these floorplans? Any ideas on how hard or easy it might be to install a new bathroom in a wood framed house over a crawl space, using an existing wet wall (kitchen)?