Once upon a time there was a nice 1 car garage. It lived a happy existence until a young couple moved in with all of their junk. The young couple filled it to the top with old clothes, moving boxes, bikes, scrap wood, and old doors.
One day the young couple cleaned out the entire garage and had a garage sale and freecycle event. The garage sighed a big sigh of relief. There was even room to park a CAR in there now!
Unfortunately, the young couple did NOT think far enough in the future and did not take the time to build storage or organize the garage and it's remaining inhabitants. Slowly, slowly the junk returned...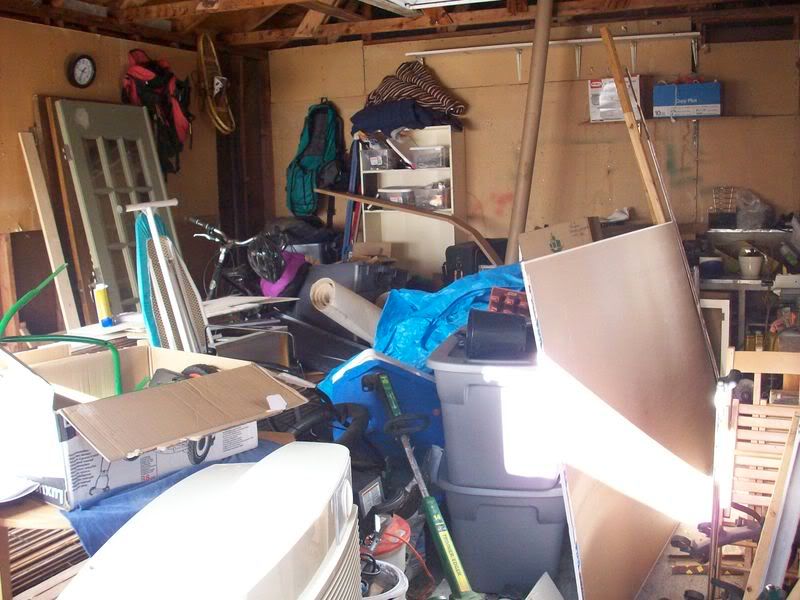 ... including 900 feet of flooring, 6 doors, 5 chairs, a swamp cooler, backpacking supplies, a sheet of DRYWALL, and MORE!
The garage was sad. Nobody came to visit anymore, since they couldn't even get in the door!
Then, one day the young woman decided to install a door jamb, door, and trim. She wanted to use the new miter saw that they had gotten for Christmas, but there was nowhere to set it up and nothing to bolt it to... except the workbench at the back of the garage.
She made a valiant effort to dislodge some of the clutter...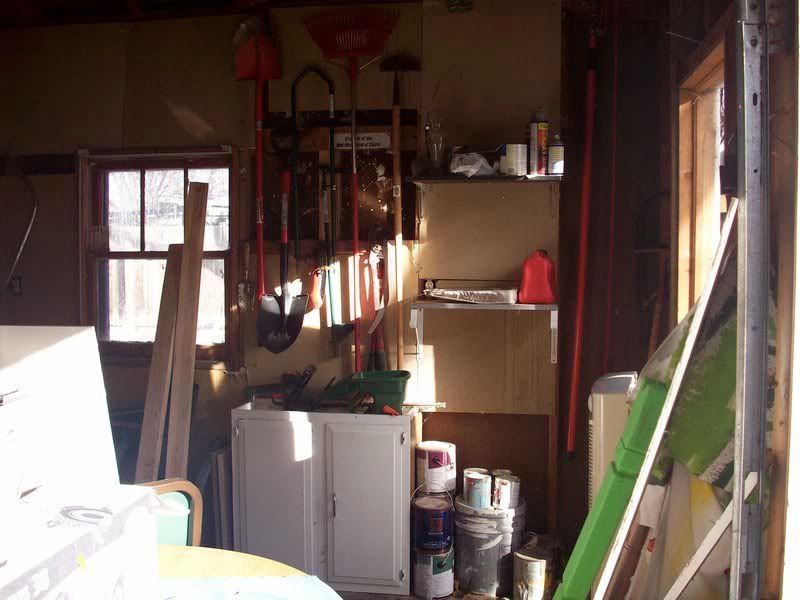 and succeeded in finding homes for all of the garden and yard tools! She screwed some shelves up with old brackets and boards, screwed an old kitchen cabinet into the wall, and nailed rows of nails into the studs to hold shovels and rakes.
The garage breathed a small sigh of relief. At least a person could walk into it now!
Will the garage live happily ever after, or will the clutter seek vengeance upon the empty and organized space and swallow it whole? Stay tuned...
(Cost: $0 Materials: Used brackets, wood, nails, etc)