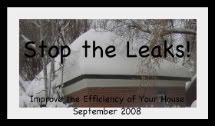 With the rising costs of heating fuel (natural gas in our case) AND concerns about dependence on fossil fuels (both domestic and foreign), we need to do do something this year. Here at Tiny Old House, we plan on spending the next month "stopping the leaks" in our house to save both money and help the environment. Get ready winter, because here we come!
On this blog, I'll focus on a few projects each week that will help improve energy efficiency and keep the chill away; some will be old and some brand new. With our house exterior and windows newly exposed to the elements, we have a LOT of work to do, too. Windows to caulk and seal, storms to replace, doors and windows to weatherstrip, and more!
I'm challenging each one of you to join me; projects are always more fun as a group. We learn so much from each other, too. I'll post links to the "challengees" in my sidebar under the challenge button so you can find others who are working towards the same goals; also, I'll post weekly "round ups" on Sundays for successes and failures, new ideas and finished projects. Come join us... it'll be fun!
To join, leave a comment below! If you'd like the nifty little challenge button I created, copy this code into your blog:
<a href="http://tinyoldhouse.blogspot.com/2008/09/stop-leaks-whos-with-me.html"></a><a href="http://tinyoldhouse.blogspot.com/2008/09/stop-leaks-whos-with-me.html"><img src="http://i81.photobucket.com/albums/j211/jennifermollyandkirby/P3220136-1.jpg" /></a>