The windows on our house are in need of SOMETHING to make them more energy efficient. But what? There are so many options...
Here's a picture of one of the worst offenses...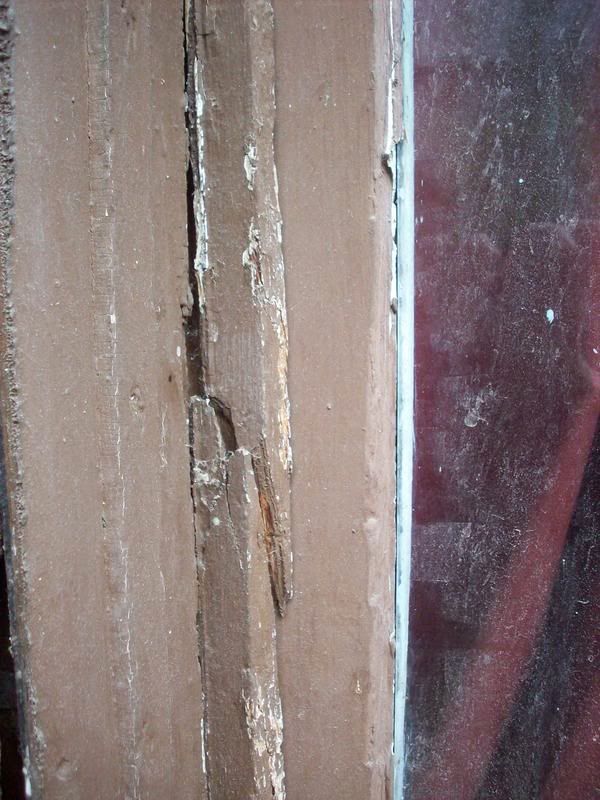 You can see that the parting bead is cracked, and the glazing is in less than desired (virtually non-existent) condition.
Replacement Windows- VINYL
There is lots of information out there about how wonderful vinyl replacement windows are. Unfortunately, most of it is from the vinyl window trade. (I have yet to find an independent study). I am not convinced.
For starters, vinyl windows have an industry stated life of 10 to 15 years... 2 years before the special Argon gas escapes and you are left with air, 10 years before moisture makes its way into the space and starts to fog the window. My wood windows have lasted for 100 years... and I would expect nothing less of any other window.
Second, vinyl windows are full of lead. The lead plus other chemicals off-gassing into the house can't be good. I will take my lead painted windows, carefully encapsulated in fresh paint or safely stripped of all lead paint, over a window that will release lead no matter what.
Third, the manufacturing process for vinyl windows can't be environmentally friendly, and the energy required to make them is certainly more than I will expend restoring old windows.
More information:
Blue Vinyl
is a wonderful documentary about vinyl siding and its effects on people and the environment. Most of the information applies directly to windows. It's worth a look.
Jeanie at House in Progress has created a
fabulous essay on the (de)merits of vinyl windows
. There quite a lot of interesting information there. Be sure to click on the links and read the tables/charts.

Replacement Windows- WOOD
Replacement wood windows sound like a comparable option to your existing wood windows. However...
Newly harvested wood is not comparable to old wood. New wood is from quick growth forests and farmed trees... harvest young after only 30 years or so. It is much less dense than old growth wood, and rots/dents/breaks much easier. I have heard of new wood windows rotting out in 15 years. Also, the softer wood does not provide the same level of insulation as heavy, dense wood does from wind.
Wood windows are also much more expensive, are often clad with vinyl or have vinyl tracks, and still require a significant amount of energy to create. (Plus, your old windows end up in the landfill).
New wood windows are the best option, however, if it comes to replacement.... as long as you pick woods like cedar and mahogany, and make sure there is no vinyl or aluminum cladding or sliders.
Restoration
This leaves us with restoration. Your 100 year old wood windows have lasted this long; properly restored, they will last another 100 years or more. Restoration also keeps wood and glass out of the landfill.
By simply adding a properly fitted storm window to a properly functioning single paned, double hung window, you will increase the r value by more than 2, and bring it up to the r value of all but the beefiest replacement windows. Adding drapes or blinds will decrease this difference.
Our plan is to reglaze our windows and make sure they are working properly. They have aluminum triple track storms right now... eventually I want to make period appropriate storms out of wood instead. I hope to be able to compare our new wood/aluminum clad double paned Pella window with our original windows for some real life data... I promise to share it no matter how it turns out.
I'll leave the nitty gritty details on window restoration as I figure them out... stay tuned!
The Numbers
In the September, 2007, issue of
Old House Journal
there are some numbers crunched on monetary savings. I will leave you with them.
Estimates made with 3'x5' window; gas heat @ $1.09/therm.
S
ingle-pane Original Wood Window with Storm Window
Cost for storm = $50*
Annual energy savings = 722,218Btu
Annual savings per window = $13.20
Simple payback = 4.5 years
*This cost is way too low for most storms. The numbers still work out in the favor of this option with a cost of $150 per storm, however
Double-Pane Thermal
Replacement
of Single Pane Window (No Storm)
Cost $450.00
Annual Energy savings = 625,922 Btu
Annual Savings per window = $11.07
Simple payback = 40.5 years
Double-Pane Thermal
Replacement
(Low E Glass)
of Single-Pane Window (No Storm)
Cost = $550.00
Annual Energy Savings = 902,722 Btu
Annual Savings per window = $16.10
Simple payback = 34 years
Double-Pane Thermal
Replacement
(Low E Glass)
of
Single-Pane Window
WITH Storm
Cost = $550.00
Annual Energy Savings = 132,407 Btu
Annual Savings per window = $2.29
Simple payback = 240 years
Source: http://www.oldhouseweb.com/forums/viewtopic.php?f=2&t=14583&st=0&sk=t&sd=a&hilit=window+ratings